Greetings from Roma!

We are on our long goodbye trip to Europe on the way to dropping Katie off to go to Uni 'college' in California.

It's bittersweet - we are loving her company but know she's leaving home for 4 years of school and will be only a fleeting visitor home for holidays.
No more the sound of her rattling about upstairs or coming into our bed in the morning for a cuddle and a catch up.
Most likely she will finish school and then get a job somewhere in the world away from us - Mum and Dad. Of course, we did it too - it's a natural part of life but nonetheless is very sad that her time with us is coming to an end.
In the meantime we have spent 5 days in Roma and were joined by our friends from Grenoble, France - Sylvia and her 3 daughters Melanie, Juliette and Pauline.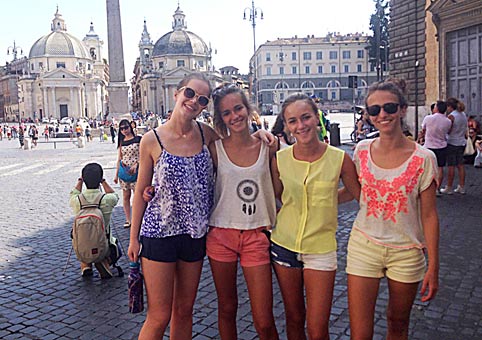 They speak 4 languages effortlessly - I have used my intermediate French a couple of times particularly "Je suis en extase" when tasting the sublime gnocchi at our local restaurant near the hotel.
All my good work training with Tatiana over the last couple of months has come undone in 5 days of 3 beautiful meals a day.
We are in the Trastavere district of Roma which is gorgeous - very central to the sights of Roma - everywhere is just a walk away although it's very hot from 11am - 4pm which makes it a bit uncomfortable to be out and about.
The nights are balmy and the Piazzas are chock full of locals, tourists, musicians beggars, dogs and street merchants.

Last night we were serenaded by a couple of old chaps - one on violin, the other on electric guitar playing Puccini and Italian pop - I enjoyed them so much - and was disappointed when my 10 Euro tip expired and they moved on.

This morning I'm writing this at the nearest little cafe - a latte is 1 Euro - it really isn't a rip off at all here - I'm surprised how reasonable the prices are in Roma for food and accommodation.

Our little hotel has only 6 rooms and we pay 125 Euros a night - I simply don't understand how they can make that work financially - with delicious breakfast included - beautiful fresh baked goods - I can't resist - I'm only human!

Today we are off to the Catacombs to escape the heat of the day.




Ciao!
Marko
PS Here's a picture of the coffee shop I am writing from.and also, if you happen to be visiting, the web address of where we're staying: www.residenzasantamaria.com