I'm getting the last bits of the Holden Brothers Travelling Circus together to deliver to iTunes in a week's time.

It's really very exciting to see it all coming together.

Thanks to the members of the Victorian Bar Community Choir who contributed to the Hypnotist one of the final pieces to be completed. It's based on a poem by Banjo Paterson that the Honourable Justice Phillip Priest recommended to me when I was junioring him before he went to the Victorian Court of Appeal.

I put music to it and some of my fellow barristers from the Victorian Bar Community Choir joined in singing it with me.

Now I need to register us as The Hypnotists with PPCA so we can get the royalties from this and donate them to the Indigenous Barristers Fund that the Bar has set up.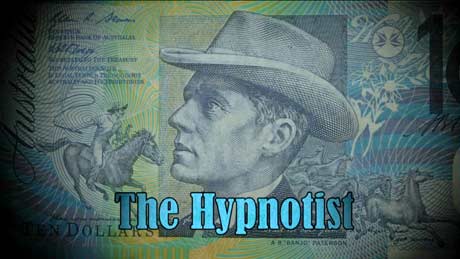 I got a call out of the blue from the Chaser boys for their show The Checkout.

Turns out the fabulous Zoe Norton Lodge and Kirsten Drysdale wrote a bit for me in their segment called Skin Care Made Simple. I played Teen Angel from Grease meets Justin Beiber's grandfather in their wonderful take-off of the skin care industry .

I got to play in the ABC's sand pit for a day . We had the main room at the Ultimo studios of the ABC. It was a hoot.

The girls were so cool and pro as were the crew. It was a real pleasure and I hope I become this gens nutty grandpa on acid. Hey I could be the new Kamahl! Or Barry Crocker! There's hope yet! Come on girls - write me into some more of your bits!!!
Check it out....

A big shout out to my buddy Pip Warren who hooked me up with Duncan Balmain after my director and editor Bruce Permezel had to move on to another project at the ABC.
I reached out to Pip for an editor and she knew Duncan was just coming back to Australia with his young family from a high level editing career in London and I got really lucky - he's been absolutely fabulous and I couldn't have done it without Bruce and Duncan.

Many thanks guys for your great work and to Pip for the inside scoop on a returning expat!

Now I'm turning my head to what I can do with the Holden Brothers Travelling Circus now that it's ready for release. I'll be exploring the music biz circa 2014 and researching what opportunities are out there for 60 year olds who want to continue to make and release music.

Russell Morris and Jo Camilleri have been doing it for years successfully and my old mate Marcia Hines has never stopped making new music so I have plenty of role models to learn from.

I have done a deal with Juice - an aggregator - so it will be available on iTunes come the middle of September and I'm also thinking of making it available via my website as a USB stick. I would send you all 5 episodes and the soundtrack album on a stick . I've been surprised to discover that the album has 21 songs on it !!! I'm stoked. I've collaborated on a lot of the songs with family and friends. My son, Cane, is a co-writer and lead singer on Ramblin Man. My daughter Katie Holden sings on Flying with Dallas Holden who also co-wrote the song with me. Mick Holden and my brother Craig wife Anna also co-wrote songs along with Rob Draper and Mick Ryan who I met through the Wathaurong Centre in Geelong.

Some big announcements to come soon. Stay tuned!